BUY MY USED PANTIES:
Vivid Micro G-String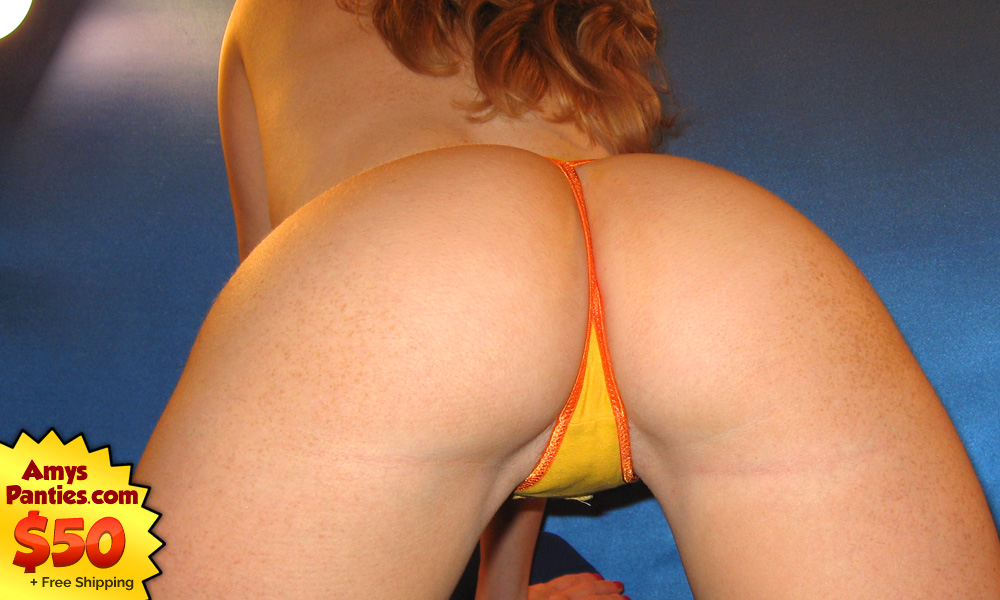 Vivid Micro G-String
$50.00
+ Free US Shipping!
Tiny Ass-Hugging G-String
Vivid Micro G-String
The first time I loaded this pic from my camera into Photoshop, I knew it would be a perfect addition to my used panty site. Imagine you're the one snapping the photo. Imagine my little freckle-covered ass is right there in your face. Imagine burying yourself deep into my sweet little cheeks and inhaling all my girly goodness. Can you feel me wiggling softly against your nose?
He he he... I love your dirty imagination! Can you tell I love dirty panty fantasies?
If you want to make your own panty fantasies cum true, consider starting with this thong panty. Especially if you are a first-time panty buyer, I always suggest starting with cotton panties, because they seem to hold my scents and stains better than any other material.
This bright Micro Thong is 100% cotton with the tiniest ass-grabbing G-String, and it feels incredible rubbing on my sweet holes. The cotton crotch will hold my pussy juices for you to lick, sniff, and stroke until you explode in ecstasy. It is a great option if you're not sure which beautiful panty to try first.
ALL MY USED PANTIES INCLUDE THE FOLLOWING:
Worn by ME and only ME.
Discreetly packaged by ME and only ME.
Worn for specified time and immediately sealed for freshness.
Personal, hand-written thank you note.
BONUS! All 2 and 3 day panties include Extra Sauce at no additional charge!
HOT! Tasty Pussy Pops can be added to any panty order.
To get any of my sassy add-ons, select the appropriate option(s) on the order form below.

Order Form