BUY MY USED PANTIES:
Sheer Micro G-String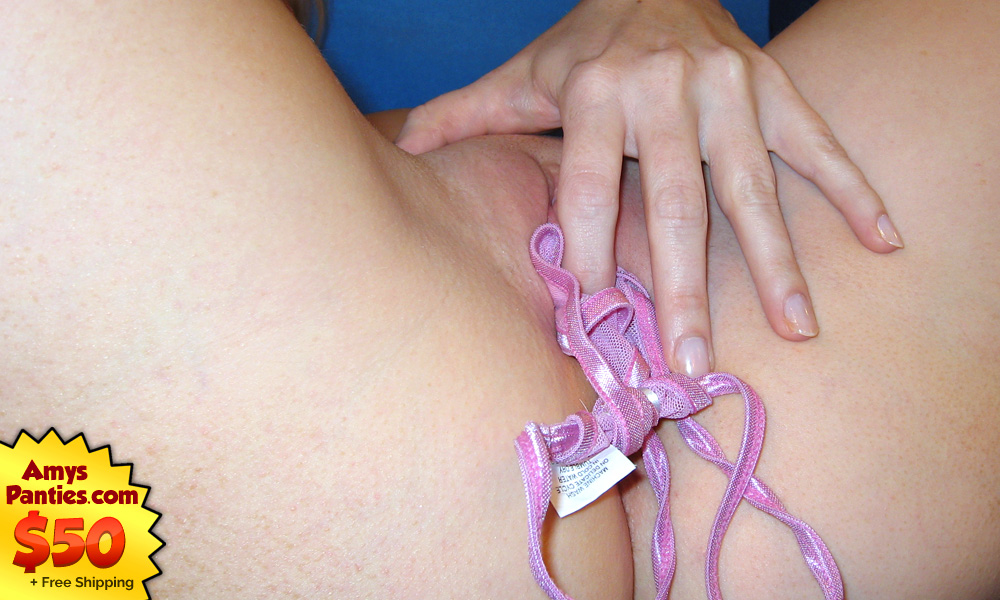 Sheer Micro G-String
$50.00
+ Free US Shipping!
A Perfect Pussy Stuffer
Sheer Micro G-String
I remember the first time I stuffed a panty into my pussy. I was during a webcam show and the viewer asked if I had ever tried it.
The answer was no but I was excited to try! I slowly slipped off my micro g-string (much like the one pictured above) and started to masturbate with it. As my pussy became juicy I began to open my lips and pushed the little thong inside. Once it was deep, I grabbed my silver vibrator and worked my twat into a frothy frenzy. I was amazed how quickly I orgasmed and came all over that little thong.
As I very slowly pulled it out my webcam playmate and I were surprised how dripping wet it was! It was literally covered in my cum. And it was the first of many times I have stuffed small panties inside my pussy.
Panty stuffing isn't for everyone. It gives a very different experience than a classic every day worn panty. But it is an exciting treat for any panty lover who wants to experience truly wet, juicy panties.
Not every panty can be stuffed, at least not in my tight little pussy. But this small, micro thong is perfect for the job.
ALL MY USED PANTIES INCLUDE THE FOLLOWING:
Worn by ME and only ME.
Discreetly packaged by ME and only ME.
Worn for specified time and immediately sealed for freshness.
Personal, hand-written thank you note.
BONUS! All 2 and 3 day panties include Extra Sauce at no additional charge!
HOT! Tasty Pussy Pops can be added to any panty order.
To get any of my sassy add-ons, select the appropriate option(s) on the order form below.

Order Form